What's fall without a perfect pumpkin? Sure you can grab one from the local grocery store, OR you can have a fun filled family day on the historic Decker Farm. Enjoy an impressive experience at this beautiful place with your children that offers entertaining activities such as a farm house tour, hayrides, art and crafts, face painting and a corn maze so you can extend your visit into a full day family trip.
The Decker Farm is part of the historic Richmond Town grounds and is the only family style farm in the New York City. Immerse yourself into the old world charm where you can smell, feel and discover the old world traditions right here on Staten Island, NY. Take the time to visit this special place full of history and cultural richness.
Use this opportunity as a great reason to get out in the autumn air and spend the day on a historic farm, weeding through the patches, searching for the perfect pumpkin while taking pictures of your adorable kids in the excitement of it all. After you pick your own pumpkin you can head straight to the arts and crafts station and decorate it according to your individual style. Then let the pumpkin dry while you enjoy a lovely tour of the farm house guided by the costumed museum volunteers that will also do demonstrations of historic trades. This picturesque farm will literally transport you into the olden days from the second you step on the grounds.
"Decker Farm is vital to the way we celebrate centuries of American life. When people visit the farm they are supporting and sharing in American history," said Ed Wiseman, the institution's executive director. Wiseman notes that first-timers are often surprised at what they find.
"They turn the corner and gaze at the open fields. Then that look comes over their faces," he said. "They're thinking, 'Am I still in New York?' That moment is priceless. Yes, rural America is still alive, right in our own backyard." Part of the Decker Farm charm is that it appears much the same as it did a hundred years ago.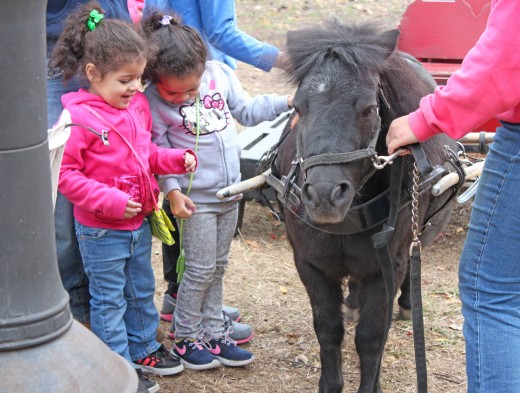 "This land has been farmed non-stop since 1810. It's surrounded by the original historic buildings. We have the classic farm animals that kids and adults love: chickens, ducks, goats, rabbits and a pony. It's like stepping back into days gone by."
Children enjoy getting up-close-and-personal with the farm critters. The animals have fun names like Cornelius (as in Vanderbilt), Buddy, Holly and Elvis.
"Where else in the city can children have the run of a real farm while their parents relax and shop?" says Kevin Fisher, a Historic Richmond Town board member and weekly farm volunteer.
Let us know your thoughts in the comments below and share some tips on your visit to the Decker Farm!