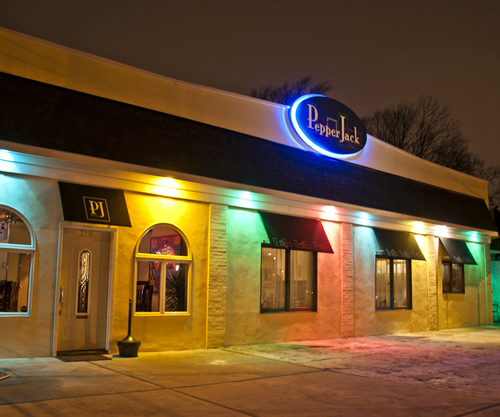 PepperJack…..With only 24 hours left to file the paperwork for the name of her newly renovated space, Melissa O'Connell (a very attentive owner of the restaurant) had to come up with something quick! She turned to her roots and her passions in life: The North Shore location, which Melissa grew up on and where the restaurant stands, the late Staten Island artist, "Jack" Demyan, who was a personal friend and who's collection of art is one of her most prized possessions, the fresh ground pepper – her favorite spice (a total guess here). From these, the Staten Island inspired name came together as PepperJack Grill.
The final result is a special place. A cozy and relaxed gastropub with a warm ambiance and a friendly staff. The cuisine is American Traditional with a bit of a fancy twist. For example – you can't get more American Traditional than macaroni and cheese, but add fresh lobster meat and the dish becomes decadent and comforting, all at the same time. PepperJack Grill boasts an appetizer heavy menu with simple yet elegant dishes and signature sangrias. "The appetizers are what we are known for" says Melissa.
Perhaps Melissa's background in interior decorating provoked her to experiment with the decor of the restaurant. The walls of PepperJack Grill are adorned with the artwork of local artists, which the owner rotates to give way to new pieces, giving the restaurant an authentic feel. The brown paper tablecloths serve as canvases and the jar of crayons on each table encourages and inspires the creativity of the youngest patrons of the restaurant. The creations are later displayed on the Art Wall. Contemporary furnishings are also incorporated into a design that features a gas fireplace, inviting dining area and leather booths. The rich mahogany bar that has been restored and kept as a centerpiece of the restaurant is, possibly, the only original feature kept by Melissa from the days long past… The bar area offers up a nice alternative to the main dining room.
There is also live music. Local musicians perform everything form rock n' roll and blues, to jazz, and even a little bit of country.
So why not head over there the next time you are in the mood for some American Traditional cuisine and do a taste test?
We liked it and we think you need to go.