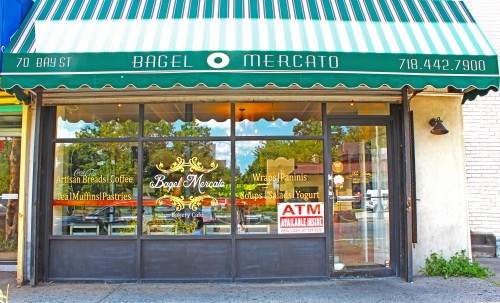 I'm not good at keeping secrets when it comes to good food places on Staten Island. Maybe, because there are so few and far in between. So I'm telling you, you have to visit the Bagel Mercato. This is the kind of sleek, trendy cafe you expect to find in West Village or Soho. The owners have decided to fix our community's problem by serving delicious breakfast and lunch items Staten Island has been missing, on the North Shore, at 70 Bay St, and we sure are glad they did. It's about time!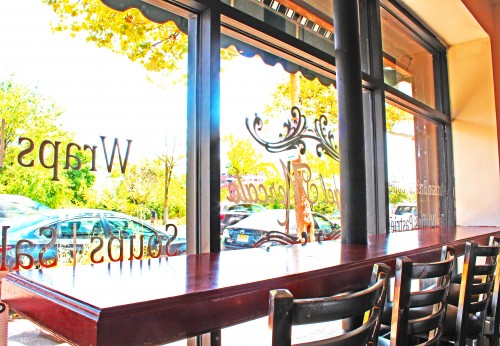 Bagel Mercato has an excellent menu of bagels, sandwiches and salads, and they're all very reasonably priced. The salads are fresh with crispy vegetables and delicious sauces. Large selection of freshly baked, hand rolled bagels and a great variety of flavored cream cheeses make for a complete and satisfying breakfast and lunch menu.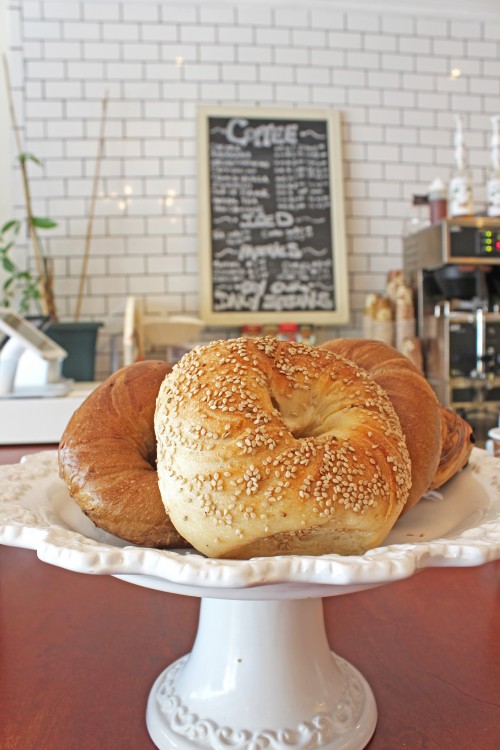 The best part is, this place has that laid-back, community-friendly vibe. The people are nice and the place is always full of regulars. Sometimes the line can get backed up, but you'll never wait more than a few minutes, plus that's how you know the place is legit and it will be well worth the wait. The guys behind the counter, along with the owners who are there to greet you as you walk in, are professional and courteous. After listening to your order carefully and making their own suggestions of the menu-must-haves (go for it, you'll be glad you did), the workers make their way back to start the process of creating something special. While you wait for your food to be meticulously prepared, take delight in a homey atmosphere and feast your eyes on a fun decor offering a bit of glitz with two large chandeliers. Even though the kitchen in this establishment may be smaller than in a fancy restaurant it doesn't make the dishes any less filled with love. Here you can have a quick bite and enjoy a high quality meal at the same time.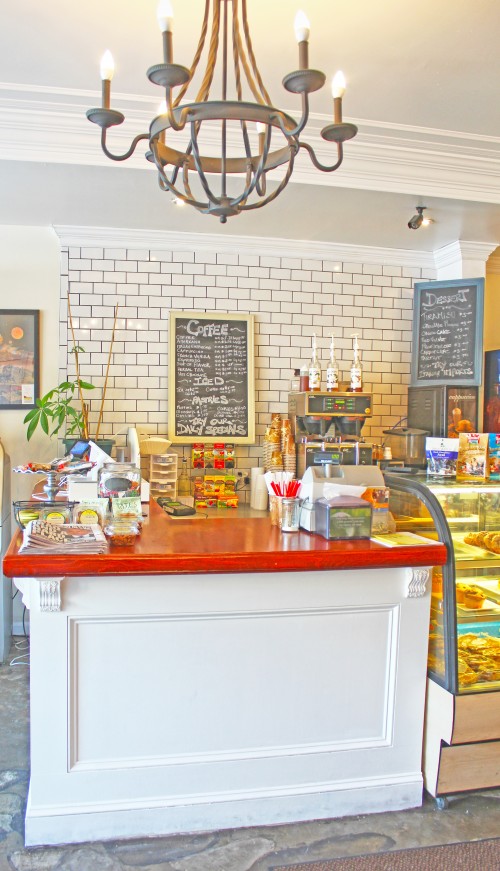 The space is on the smaller side, but nevertheless, quiet impressive. Design architect Nina Ferrer, whose career includes design of luxury homes for celebrities and high-end retail spaces, a run as a TV Host and Designer on Clean House NY, and participation on HGTV's highly popular Design Star (Season 5), designed this relaxed and casual yet absolutely classy space. The room is decorated with subway tiles, handcrafted countertops, chandeliers, multiple serving stations and a seating area for those who wish to dine inside. For more on Nina's concept of the store and design style visit The Bagel Caffe I designed "Bagel Mercato".
During my visit, I had the pleasure of briefly meeting Nina, who was perfectly happy and excited to tell me a little bit about this place. She also happens to be the wife of Stefano, one of the owners, lucky guy!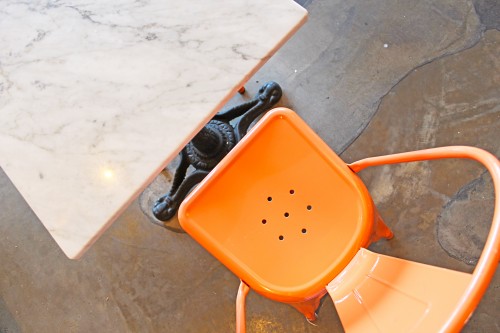 How did you come up with the concept for this space?
Nina: "When I met my husband Stefano, he was looking to create a bagel shop with a more attractive presence and it just so happens that this is what I do, so I sketched this cafe on a napkin on our first date. And anytime we would go out to eat, we would talk about the cafe, and do research on the floors, tiles, chairs and all the other elements of the design. I finished the design, filed it with an architect and oversaw the management. The two counters was Stefano's idea and the concept was to serve both, business professionals on a morning commute and those who stop by to amuse their leisure, Manhattan urban situation. We also love giving back to the community and that's where the idea of displaying local artists' work on rotation came into play. Over time we have developed a relationship with many local artists (St. George is known in the community as an art center of Staten Island), they often come in for a bite and become a part of the regular crowd. There's a sense of a neighborhood destination in this cafe."
What do you think the future of the neighborhood holds with the new projects like The New York Wheel, Harbor Commons, Lighthouse Point and Navy Pier moving into the area?
Nina: "There's a lot of development in the area and we are noticing positive changes in the neighborhood. Much more young professionals are moving into the area and it is a lot nicer to walk around. More restaurants and art galleries are opening up in the neighborhood and we are hopeful that more Staten Islanders will come here as a destination. The waterfront has a lot of potential – it's happening in Red Hook, it's happening in Williamsburg, it's happening in Greenpoint, in Jersey City, in Hoboken….it's going to happen here! "
Creative young minds are flooding the area and I completely agree with this vision. New York City is making large investments and planning many new projects in our area. The future developments are about to change the waterfront as we know it.
One thing's for sure, I'll be coming back to this lovely spot for excellent breakfast selection and lunch time winners. If you come here once, I guarantee you'll permanently plant this spot in your weekly routine. At the very least you can always enjoy the fact that someone took the time and put a lot of effort into making your meal here simply awesome!"