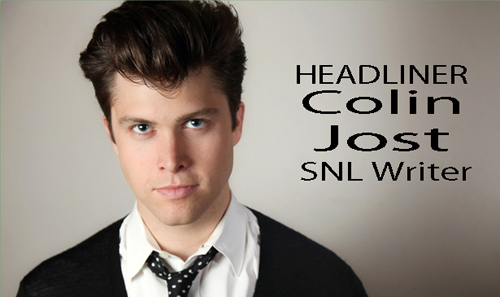 hen was the last time you laughed? The 5th Annual Staten Island Comedy Festival promises to be Bigger and Better than in all the previous years, mixing comedy and charity. 7 nights at 7 venues for 7 charities! In these tough economic times there's nothing like the power of laughter to bring your spirits up. The exciting week of comedy will feature the best local talent as well as national headlining comedians such as Colin Jost, Sherrod Small and Vic Dibitetto. The stand-up comedy festival has been slowly evolving and growing, since its first debut in August 2008, now offering 7 straight nights of hilarity and celebration. The action-packed comedy show, benefiting 7 different charities, will surely have you entertained.
We had the pleasure of speaking with Joel Richardson aka Soul Joel of Soul Joel Productions, the festival's co-founder, about the Staten Island Comedy Festival and it's history.
Q: How did the idea for Staten Island Comedy Festival originate?
Soul Joel: The idea came to us 5 years ago. A lot of times, Staten Island's portrayal in the media is negative and full of stereotypes. We wanted to do something positive for Staten Islanders. At the time there weren't any comedy clubs on Staten Island and we wanted to put together a festival that would benefit the community and bring people together. The goal is to attract people from different boroughs to come to Staten Island, have a great time and get as many people involved as possible. We have performances at a different venue each night, we tried to space it out to get different parts of Staten Island involved and make it more convenient for people to attend the shows.
Q: Tell our readers a little bit about yourself?
Soul Joe: I'm a producer and a radio personally. I have my own radio show on Tuesday nights (5 to 8pm EST on 1460 AM in Philadelphia and South Jersey) called The Comedy Point. And during the day I teach mentally disabled about the radio and how to produce their own show at Lifestyles for the Disabled. This organization also happens to be one of the charities that the festival benefits on Sunday, April 15th. In fact, all the proceeds from the 7 shows will be donated to 7 different charities.
Q: Who are the stand up comedians that will be performing in the festival?
Soul Joe: 4 comedians that are performing are from Staten Island and they earned their entry through the auditions we held last year. The other stand-up acts are all national headliners from New York area. It's a good mix of local and national talent. There's a different line-up every night, the comedians bring their A game every time they hit the stage. There's also going to be a kid friendly show to kick off the festival on Sunday, April 15th at 2pm.
Q: Where do you see the festival going?
A: The goal is basically just to keep growing. We would love to be like the Montreal Comedy Festival which is one of the biggest comedy festivals in the world. And I want to keep making it to where Staten Island becomes an attraction, where people can come from different parts of the country and enjoy the festivities.
Q: Any last words before we go?
Soul Joe: Just come out with your friends and family and enjoy the shows!
For more information about the Staten Island Comedy Festival and to purchase tickets please go to www.statenislandcomedyfestival.com
Come cheer on your hometown humorists for a unique chance to see the future stars of comedy right in your neighborhood!